Madrigal Dinner Seats on Sale Today!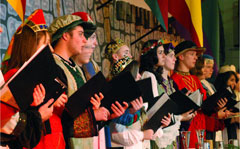 Seats for the Madrigal Dinner go on sale today, Wednesday, November 9th, for Vocal and Band member families. Seats may be purchased during Vocal and Band today through Friday. See Ms. Campbell to reserve your seats. Your reservation will be complete upon payment and seats are non-refundable/non-changeable (no table jumping!). After Friday, the sale will open to the general public. Note that no paper tickets will be issued; a list will be at the door on the evening of Madrigal with the names of all seat holders. Thank you for supporting the IHS Music Department!
Dates
Friday, December 2nd & Saturday, December 3rd
Time
Seating at 6:30 pm; Show begins promptly at 7:00 pm
Location
IHS Cafeteria Castle
Cost
$25 per person
*Support the IHS Music Department and enjoy a delicious meal and an evening of merriment to get you into the Holiday Spirit!*
Dates to Remember
11/11 - Fruit Sale Money Due
11/17 - Stoller (bakery) fundraiser money due
12/1 - Fruit & Bakery Fundraiser pickup after school at HS
12/4 - Holiday Fest, Noon - 4pm
12/2 - Madrigal Dinner 7pm
12/3 - Madrigal Dinner 7pm
12/14 - Holiday Concert 7pm
Additional questions can be answered by the following Booster Amabassadors: Anna Sarley 216-524-2927, Marcia Abbadini 216-447-8393, Nancy Flynn 216-701-7373, Cathy Krolikowski 216-524-8260, Mary Dolansky 216-524-0881. Teri Kula 216-573-4962.
---
You have received this message because you are a friend or member of the Independence Music Boosters. Contact Boosters Webmaster if you wish to be removed from this distribution list.